Ultrasound


Ultrasound machine uses sound wave, like sonar. There is no radiation! It is a powerful tool in examining internal organs, like heart, abdomen, and pelvis. Carotid duplex scan can detect early plague formation in the carotid arteries in order to prevent strokes. Especially, color Doppler and spectrum can help to detect vascular flow abnormality.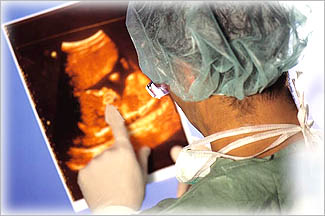 (1) Breast Ultrasound
It is a complimentary study to mammogram to help differentiating nodule from cystic to solid. Especially when there is a palpable nodule in the breast of young women under age of 30. Ultrasound is used to replace mammogram to evaluate the nodule being cystic or solid. Mammogram tends to fail to detect nodules in the young and dense breasts.
(2) Internal Organs
Thyroid Ultrasound
To R/O thyroid nodule is cystic or solid.

Echocardiogram
Echocardiogram is a non-invasive procedure to evaluate left ventricular wall motion, wall thickness, chamber size, and valvular abnormality.

Abdomen-General
To look for any liver, pancreas, gallbladder, kidneys, and spleen abnormalities. Symptom: abnormal liver function test and abdominal pain.

Gallbladder
To look for any gall stone on inflammation (included in abdominal ultrasound).

Kidney To look for any renal stones, tumors, cysts or renal failure (can also be included in abdominal ultrasound).

OB/Pelvic
OB is used to evaluate the progress of pregnancy and fetal abnormality. Pelvis is to evaluate uterine fibroid and ovarian cysts or tumors.

Aorta
To R/O aortic aneurysm.
(3) Vascular Studies of Ultrasound
Vascular studies of ultrasound include Carotid Duplex, leg arteries and veins. It is used to check for any thrombus in the leg, which can be fetal. Further, poor arterial circulation can cause leg pain and sometimes can lead to amputation in diabetic patients.

Carotid Duplex To look for plagues or narrowing in the arteries in the neck. Plagues in the carotid arteries can cause stroke.