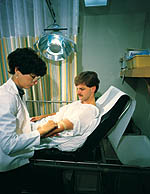 MRI


HOW MRI (MAGNETIC RESONANCE IMAGING) WORKS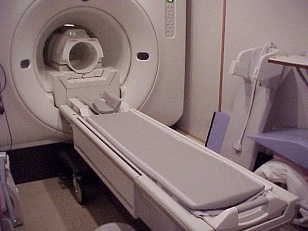 Magnetic resonance creates its images by utilizing the magnetic properties of atomic nuclei. Certain atoms wobble when placed in a magnetic field, much like a top or gyroscope when tipped from its axis of rotation. This wobbling is the basic atomic feature measure in magnetic resonance imaging. This wobble can be selectively disturbed by the application of radio waves at appropriate frequency-the resonant frequency. Radio signals are emitted when the selectively disturbed nuclei return to their resting state. These signals are processed by computer programs, similar to those used in CT to create images.
CONTRA-INDICATIONS
No biological hazard from MRI is currently known. However, since the technique involves strong magnetic fields, certain precautions must be taken. For safety reasons, some patients are excluded from MRI examinations. These may include patients with:
Cardiac pacemakers
Internal ferromagnetic aneurysm clips in the brain
Metallic shrapnel or foreign bodies in or near vital structures (e.g. eye)
Some inner ear surgery
Although no short-term ill effects from MRI have been reported in pregnant women, potential long-term risks are still under evaluation.
INDICATIONS FOR MRI
BRAINE, HEAD AND NECK

White matter diseases, such as multiple sclerosis and other demyelinating diseases.
Primary and metastatic tumors, particularly early detection and staging.
Small lesions near the base of the brain, such as pituitary tumor, posterior foss, brain stem abnormalities, cranial nerve tumors, and orbit pathology.
Detection of stroke and hemorrhage.
Anterio-venous malformation.

SPINE AND SPINAL CORD

Herniated disc, spinal stenosis, and spinal cord injuries.
Metastatic lesion to vertebral bodies.
Tumors and cysts of the spinal cord, Arnold Chiari Malformation, and syringomyelia.

MUSCULOSKELETAL

Joint imaging, particularly knees, shoulders, hips, wrists, ankles, and temporomandibular joints.
Soft tissue and bone tumors.
Avascular necrosis of femoral heads, knees, wrists and ankles.
Trauma of soft tissue and bone.

LIVER

Primary and secondary hepatic tumors.
Hepatic cyst, heamangiona (MRI is the exam of choice).

REPRODUCTIVE ORGANS

Primary and secondary tumors.
Staging of pelvic tumors.
Prostatic diseases, testicular diseases.
MRI may be indicated for patients with a negative CT scan with hard clinical findings or with equivocal CT results where additional information is needed.