CT Scan


DMG is among a select group of U.S. facilities equipped with industry-leading multi-slice computed tomography (CT) technology to improve the detection and treatment of heart disease.
The recently installed 64 Slice Superfast CT features advanced cardiac imaging technologies for faster and more comfortable studies to accurately examine coronary arteries through noninvasive CT scans. The 64-Slice CT is designed for leading edge institutions like DMG, to offer the most advanced multislice, volume coverage CT studies to the San Gabriel Valley. It offers breakthrough performance in cardiac and coronary artery imaging and can help boost other clinical capabilities to the highest level attainable.
This advanced imaging system:
Provides large volume, thin-slice coverage which dramatically improves diagnostic confidence, image quality and productivity.
Offers advanced cardiac imaging that allow for excellent coronary artery evaluation.
Delivers breakthrough performance in advanced pulmonary imaging, multi-organ trauma evaluation and low-dose pediatric applications.
Provides superb performance in cardiac and coronary artery imaging, pulmonary studies, CTA and critical care.
Advanced Cardiac CT Exams
While CT uses X-ray technology, it is distinguished from other diagnostic imaging tools like traditional X-ray and MRI by its ability to display a combination of soft tissue (like muscles, tissue, organs and fat), bones and blood vessels all in a single image. Clinicians perform CT scans to diagnose kidney, lung, liver, spine, blood diseases, cancer, tumors and cysts, as well as blood clots, hemorrhages and infections.
During a CT exam, a patient lies on a table and is slowly moved into the large donut-shaped opening called the gantry. Once inside, a series of X-ray beams create hundreds of cross-sectional pictures that represent slices of the patientís body. Seconds later, the systemís computer assembles the slices into three-dimensional images that are interpreted by a clinician.
The 64-Slice Superfast CT Scanner is designed to offer physicians greater diagnostic capabilities while helping patients to avoid more invasive medical procedures. The system delivers unmatched clinical images of the heart with multislice imaging technology that captures up to 64 simultaneous anatomical slices of 0.5 mm through an advanced 64-row data acquisition system (DAS) in a single gantry rotation. In addition, the systemís sensitivity and accuracy are enhanced with a process called isotropic scanning, which results in images that most accurately capture equal views and angles of internal structures.
As a result, multislice technology captures precise images of the bodyís rapidly moving organs like the heart. Multislice imaging also is especially useful for examining patients who are unable to hold their breath, like trauma victims, acutely ill patients and young children.
In addition, the 64-Slice Superfast CT Scanner provides high image quality while also minimizing the patientís radiation exposure because the systemís detector is composed of a highly efficient ceramic material. This material allows for the highest radiation dose efficiency available on the market.
In order to benefit our patients more, Diagnostic Medical Group recently purchased and installed the most recent model of the Ultra-fast 64 Slices CT Scanner to perform the following studies: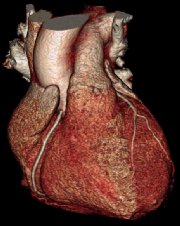 (1) CORONARY ANGIOGRAPHY AND CALCIUM SCORING
No sedation. Non invasive, exam time is just a few minutes. Any soft or hard plaques in coronary arteries can be evaluated. Candidates can be over age 50, with stressful work and history of high cholesterol in the family.
No sedation. No insertion of scopes.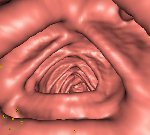 Exam time is short and relatively comfortable. Patients over age 50 to 60 who are reluctant to have direct colonoscopy can choose this test as an alternative.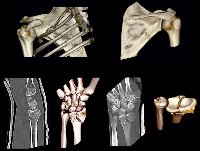 (3) BONE IMAGE
High resolution, thin slices (less than 1mm), very good for wrist, ankle trauma evaluation, 3-D display can help surgical planning.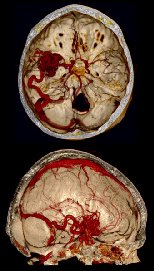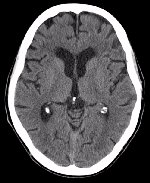 (4) HEAD (BRAIN AND VESSELS)
Early detection of small brain tumors, prior strokes, aneurysms, abnormal fluid collections such as chronic hematomas and cysts.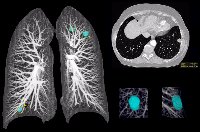 (5) LUNG
Early detection of small lung lesions (less than 0.5 cm.) can be life saving. Smoker or history of lung cancer in the family can take advantage of this exam.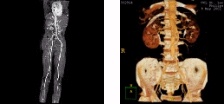 (6) WHOLE BODY VASCULAR RUN OFF
To evaluate aortic anuerysm, carotid or vascular stenosis, etc. Patients with symptoms of chronic dizzines, headaches, or leg cramps can use this exam to diagnose any vascular abnormality. (Click to view the animation.)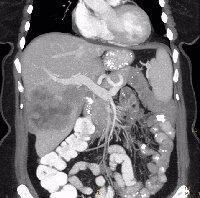 (7) ABDOMEN AND PELVIS
Abdominal exam includes liver, pancreas, gall bladder, kidneys and spleen. Pelvis includes uterus, ovaries and prostate.Tumor evaluation or other pathology.

(8) UROGRAM
This exam is intended to detect stones in the urinary tract (no contrast injection) in one breath hold. Images to include kidneys, ureters, bladder are acquired to rule out any stone or any obstruction. Superior than traditional IVP.



Q: What is the difference between the regular CT Scanner and the 64 Slices CT Scanner?
A: Our new 64-Slice Superfast CT Scanner delivers high-speed, high-resolution imaging, which allows physicians to capture precise images of any area of the body, including the rapidly moving heart and lungs. The heart and lungs frequently appear blurry when scanned by a traditional CT scanner. This fast scanning capability allows important diagnostic information concerning the heart to be obtained within a single breath-hold, less than ten seconds, while a CT angiogram can be imaged within 15 seconds. The 64-Slice Superfast CT Scanner delivers superior images that enable physicians to clearly visualize the heart, its vessel walls and surrounding structures to detect the early onset of coronary heart disease and reduce the need for high-risk surgical procedures.

EXAMINATION ITEMS AT OUR OFFICE INCLUDES SCREENING TESTS AS WELL AS DIAGNOSTIC TESTS:
Whole Body Screening: includes head, chest, abdomen, and pelvis. No IV contrast injected.
Coronary CT Angiography: Need IV contrast injection.
Calcium Scoring
Virtual Colonoscopy: Bowel preparation two days prior to exam required. No contrast injection.